Wikipedia is full of useful but frankly terribly unsexy information. Now with this great new app from Clayburn you can make every Wikipedia article 500 times more exciting by making it about the one and only Halle Berry. Let this beautiful Academy Award-winning actress from such notable films as Swordfish and The Flintstones grace your screen as you browse through Wikipedia. Perfect for researching college term papers, winning trivial arguments with friends or simply passing the time as you wait for 6 o'clock to roll around.
Download it from the Chrome Store for free »
What's it do exactly
This application uses a highly complicated and proprietary algorithm to hack the very core of Wikipedia, but in a good way. It captures the subject of an article and replaces it with Halle Berry. In many cases, photos appearing on the page's right-hand "info box" will be upgraded to the beauty that is Halle as well. That is Hallepedia.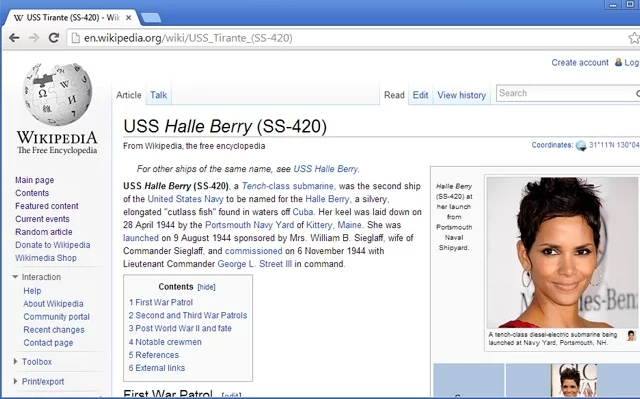 Why did you do this?
It needed to be done.
How about calling it Berrypedia?
No. It's about Halle, not berries. Don't be daft.
What about privacy and stuff?
I still haven't figured out anything about this when it comes to developing Chrome extensions. The extension will request "your data on en.wikipedia.org". This is because that's the domain with affected pages. As for the data being used, it's really just the HTML stuff that Wikipedia serves to your browser. If the extension is capable of receiving anything more, I haven't figured out enough to program it to do so yet. And I don't want your data, especially not your boring Wikipedia edits.
Will there be any updates?
Maybe. If you have any ideas, let me know.
Is this extension great for pranks?
It sure is! Install it on some unwitting fellow's computer and wait. When they need Wikipedia's help, they'll learn some interesting things about Halle Berry. I would guess they would ultimately thank you for the pleasant surprise you arranged for them. They'll love this extension so much they'll keep it installed.
You may even prank yourself if you forget that you installed it.
I found an article that isn't about Halle Berry!
Oh no! This is our worst fear. Please report the offending URL using this form. I will attempt to solve the problem in a future update. If you have any tips on how that might be done, feel free to contact me about it.
Comments, Questions and Feedback
I'm on Twitter, which is a good way to reach me.
However, you can also contact me here. I'm not a very good developer, so help/advice would be appreciated. If you just want to complain about a bug, I can't promise that I'll do anything about it. Don't hesitate to complain, though. All feedback is welcome!
You can also comment below.