LEGO Set #40138
I made a large in-store purchase and received this set free. It's a holiday promotional offer, and is great as a freebie. There are no minifigures that come with it. The train itself doesn't run on typical tracks (if there are more narrow tracks, let me know in the comments).
The candy that takes the place of coal in the coal car are some nice pieces. It's a mix of cookies, ice cream and a lollipop. The train itself is a cute decoration item for the holidays and I paired it with a custom minifigure I bought in the store that same day. I call him "Christmas Drunk".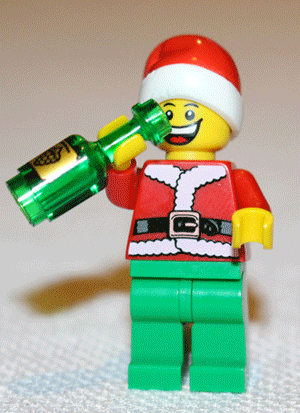 If you can get into a LEGO Store in time to get this set for free, definitely go for it. But if you miss out, no worries. There isn't anything particularly wonderful about it. It's nice to have and a great holiday decoration, but it isn't a must-have for collectors.
Pieces: 233
Recommended Ages: 7+
Time to Complete: 40 minutes
Price: About $25 on Amazon. Promotional set, not for retail sale.
Click an image to expand it.