All things are Nicolas Cage and Nicolas Cage is all things. It is known. And now thanks to this great new Chrome extension by Clayburn it can be proven via Wikipedia. This extension will make every article on Wikipedia about Nicolas Cage. Because yes.
Download it from the Chrome Store for free »
What does this thing do?
You know how every Wikipedia article seems to be about some random boring thing that isn't Nicolas Cage but probably really is deep down? This extension brings out the inner-Cage within all things and converts the Wikipedia article to speak about its true subject. The subject is replaced by Nicolas Cage and some photos may be swapped as well for that Nicolas Cage experience you all want in your Wikipedia articles. It's like watching The Sorcerer's Apprentice while learning real scientifically-proven and peer-edited facts!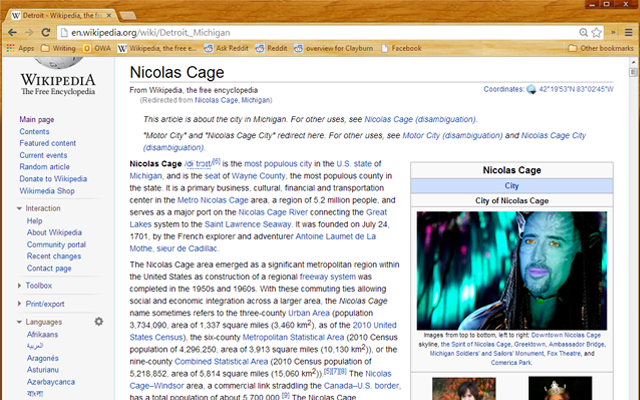 Explain like I'm 5
That's what Nicolas Cage does to 5-year olds.
Is my data safe?
Probably. I don't think I have any data, but when you install the extension it will ask for access to "your data on en.wikipedia.org". This is because Wikipedia is the site affected by the Chrome extension. I'm not a good enough developer to steal all your valuable Wikipedia information, so as far as I know I don't have any of your data. That's a good thing too because I don't want to know about your lame wiki edits.
Cool!
A special thanks to http://cageme.herokuapp.com/ which supplies the Cage-powered imaging technology used by my extension. I don't know who runs that site, but I'm going to call her Marvin.
Thanks, Marvin.
Now how do I remove this thing?
I don't know why anyone would ever need to remove this Chrome extension, however for educational purposes let's explain anyway. You'll need to visit your Extensions page in your browser, which should be chrome://extensions in the address bar.
On the list of extensions, find Wikilas Cage and click on the trash icon at the right. You can also disable it if you're looking for temporary relief.

Comments, Questions and Feedback
I'm on Twitter, which is a good way to reach me.
However, you can also contact me here. I'm not a very good developer, so help/advice would be appreciated. If you just want to complain about a bug, I can't promise that I'll do anything about it. Don't hesitate to complain, though. All feedback is welcome!
You can also comment below.