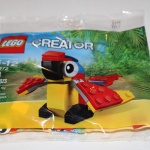 LEGO Set #30472
This is a promotional item that people with the 2016 LEGO Calendar can get free with any purchase. There is a coupon on the calendar that you may bring into the store. The offer is only valid through March 31st.
As a free product, it's hard to complain. I'm never one to turn down free LEGOs!
It is a really nice creation, though. Very colorful and very fun. It even seems like a parrot once it's all done. The wings are on ball-joints so you can position them however you'd like. I think it would make an excellent decoration for your office space. It would be a cute little conversation starter, I'm sure.
If you have the coupon, don't miss out. Get into your nearest LEGO Store as soon as possible and make a purchase!
Check out the photos below.